Written by Sebastian HuhnFriday, 13 April 2012 21:10
Cassandra Complex
Rodney Orpheus and Paul Dillon gave birth to THE CASSANDRA COMPLEX in 1980. The world saw their first release coming up in 1985 with the self-financed single 'March' in March of that same year. A month later after the release of a live tape they signed to the local label Rouska. When the band released their second single, 'Moscow Idaho' (1985), it quickly soared to the top of the indie charts all over the world, got played to death on alternative radio stations, and influenced an entire generation of bands to come. After the 1993 release of 'Sex & Death' which was the first album to include the works of Volker Zacharias (GIRLS UNDER GLASS), t became silent until Rodney and Volker met in a club in 2000, resulting in the first regular album since 1993 called 'Wetfare' followed by a successful tour. After another silent period the original band members reformed in 2007 and played several shows in Europe and Brazil. THE CASSANDRA COMPLEX is Rodney Orpheus, Andy Booth, Volker Zacharias and Axel Ermes. http://cassandracomplex.co.uk/ /http://www.myspace.com/cx2k / https://www.facebook.com/thecassandracomplex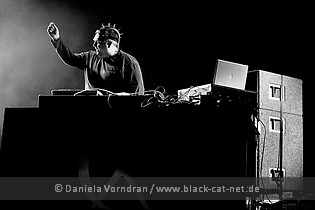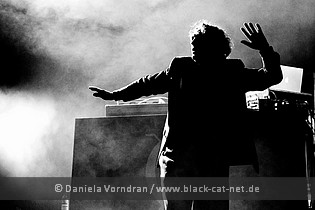 Music & Performance
Certainly a legend, I've never had the chance to be part of one of their live performances up to now. The main question was if they could meet with my high expectations. I'm saying this upfront. They did. Even more so, they were able to surpass them. Starting with the upbeat 'What Can I Do For You' the band, half of GIRLS UNDER GLASS with Axel Ermes and Volker Zacharias by the way, around Rodney Orpheus cast a spell on the audience right away, one reason being Rodney's haunting and charismatic performance. If he wasn't busy singing, it was his pleasure to keep the crowd entertained, reveal the news of them recording an album again after 25 years, or just bridging the time while someone else was tuning the guitar. The majority of the song were pretty much upbeat, some harsher and some having significant sliced of enduring melodies inside them.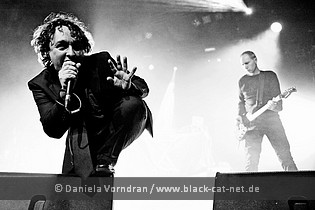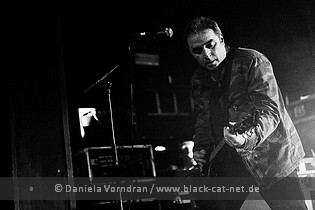 Much to everyone's dislike they had to skip one song of the setlist. Actually the last song was meant to be 'Moscow Idaho'. Instead it was the SUICIDE cover 'Frankie Teardrop' closing the best show this evening offered this far.
Setlist
01. What Can I Do For you
02. Bad Faith
03. Datakill
04. The War Against Sleep
05. Valis
06. Voices
07. Second Shot
08. Satisfy Me
09. Kneel To The Boss
10. Frankie Teardrop
Rating
Music: 9
Performance: 9
Sound: 9
Light: 9
Total: 9 / 10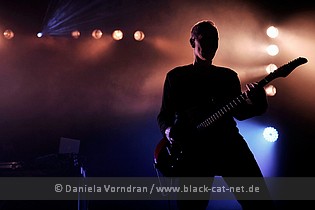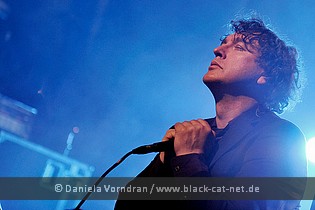 Rewind-Easter-Fest 2012 – Tag 1
DATUM
06.04.2012 – 07.04.2012
ORT
Gent (Belgien)
CASSANDRA COMPLEX
Mit der nächsten Band erfüllte sich für mich ein lang ersehnter Traum. CASSANDRA COMPLEX wurden 1980 von RODNEY ORPHEUS und PAUL DILLON gegründet. Ihre erste Veröffentlichung war die selbstfinanzierte Single "March" im Jahr 1985. Mit ihrer zweiten Single "Moscow Idaho" aus dem selben Jahr schossen CASSANDRA COMLPEX an die Spitze der alternativen Charts und wurden omnipräsent in Clubs und Radios auf der ganzen Welt. Das erste Album erschien 1993 mit dem Titel "Sex & Death". Bis 2007 wurde es still um die Band und mit einigen Shows in Europa und Brasilien meldeten sie sich zurück. In Belgien waren RODNEY ORPHEUS, ANDY BOOTH, VOLKER ZACHARIAS und ACEL ERMES, die letzten beiden von GIRLS UNDER GLASS, auf der Bühne zu sehen.
Schon lange schlummerte der Wunsch in mir CASSANDRA COMPLEX live zu erleben und nun hatte er sich erfüllt. Meine Erwartungen waren riesig und sie wurden souverän erfüllt und getoppt. RODNEY ist ein exzellenter Livemusiker. Ausdruck, Bewegung und Gesang passen perfekt zusammen. Er spielte mit dem Publikum, ging auf Tuchfühlung und ließ die Musik lebendig werden. Mit der Unterstützung von VOLKER an der Gitarre und AXEL an den elektronischen Geräten wurde der Auftritt ein super Erlebnis. Die Setlist war eine Reise durch 32 Jahre Bandgeschichte. Gestartet wurde mit "What Can I Do For You" und als krönenden Abschluss wurde noch das SUCIDE Cover "Frankie Teardrop" geboten. Leider konnte aus Zeitmangel der eigentliche Abschluss nicht mehr gespielt werden. So mussten wir auf "Moscow Idaho" leider verzichten.
CASSANDRA COMPLEX-Setlist:
01. What Can I Do For You
02. Bad Faith
03. Datakill
04. The War Against Sleep
05. Valis
06. Voices
07. Second Shot
08. Satisfy Me
09. Kneel To The Boss
10. Frankie Teardrop