The Cassandra Complex – Boots & Braces Theater Stage (LAy)

No doubt, one of Amphi's gems was offered inside the theatre when legendary CASSANDRA COMPLEX from the UK hit the stage. The band around singer Rodney Orpheus produced their first album 'Grenade' in 1986. Since the 2000 album 'Wetware' there has been no new material, nevertheless, there are blissful smiles on people's faces whenever they get the chance to see such iconic and influential artist. No wonder that Mr. Orpheus, Andy Booth (guitar) and Volker Zacharias (bass) and "button pusher" Axel Ermes played to a full house starting with the darkly war song 'Nightfall.' The sound was stellar all through the gig.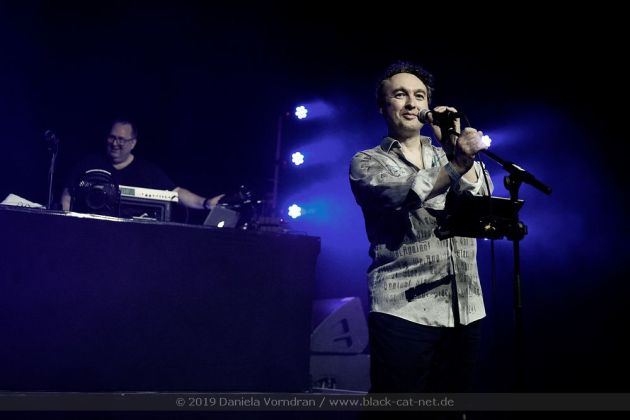 Funnily enough, there was a "technical problem" during the song 'Datakill.' Rodney seemed to have accidentally unplugged his bandmates' instruments. CC and their fans were very well-spirited and of course no one minded having them perform the piece once again from the start. When 'The War Against Sleep' and one of their very first singles, 'Moscow Idaho,' resounded, the audience lost it dancing and jumping wildly to the fast-pasted song. 'One Millionth Happy Customer' marked the end of an entertaining "Post-Punk Industrial Electronic Rock" show.
// Setlist: 01. Nightfall / 02. Too Stupid To Sin / 03. Valis / 04. Second Shot / 05. Motherad / 06. What Can I Do For You? / 07. The War Against Sleep / 08. Datakill / 09. Moscow Idaho / 10. One Millionth Happy Customer